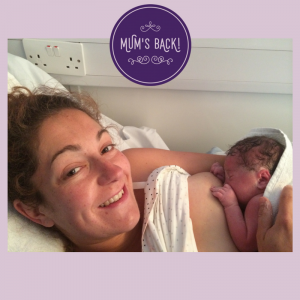 I've spoken a few times now about my take on being a new parent. About how it hits you like a tonne of bricks. How NOTHING prepares you. About how I think I have the answer to the best new mum gift you could get her, and how I found everything too focussed on the baby. But it's got me thinking recently about what advice people would offer if they could do it all again? What would they say to themselves the day they became a parent? I decided to ask my fabulous community on social media. I got a FABULOUS response! Here is a short selection of some of my faves…
"I'd loved to have known that the overwhelming amount of guilt you experience in the first few weeks is all quite normal and you're not alone. Learn to swat that guilt fairy away. You are doing brilliantly."
Rachel Persani
"Chocolate. Consume it. Don't google lack of sleep- it will tell you you're going to die. I wish I'd just known how hard it is. It's like the best-kept secret. You have a baby and feel like a failure because no one said how flippin hard it is."
Louise Rose
"No matter how self assured or together they seem on the outside, every parent is just winging it."
Jodi Murphy
"If you need to cry, just do it without feeling ashamed. You are normal, no matter the amount of tears."
Claudia Benitez Diaz
"Cuddle the shit out if them! Don't expect to put them down"
Nina Stevens
"Don't worry if you don't love them in the first day, the first week, even the first month. It can take time. And don't feel pressure to enjoy everything – some days will be horrible and it's ok to say that. Get some time away as soon as you can – leave them with dad or gran for an hour or two when they're still tiny, so leaving them for the first time doesn't build up to be a huge thing. Oh and it's ok to let them cry sometimes."
Lucy Dunkeyson
"Sleep when your baby sleeps. When visitors come round get them to make YOU a cup of tea. Get a nice dressing gown in advance-you're going to be seen wearing it a lot.  Have a place where you can sit a feed comfortably. Put your phone/remote/book within reach because once you sit down you'll need it."
Caroline Budden Gibson
"Always point the willy down when changing a nappy"
Lisa Chapman
"Lavender oil and tea tree oil in a warm (not hot) bath will help to naturally heal a tear. (Ouch!)"
Caroline Budden Gibson
"I remember sitting down to eat dinner one night and my daughter started crying- I was totally overwhelmed. I thought nothing would ever be the same again and I panicked. Life WAS never the same…but it a totally fantastic way! The smallest thing may be overwhelming but it's ok. It's ok to feel like that."
Beverly Ann
"Coffee is your friend!"
Chris Norton
"Feed, clean nappy, entertain, keep the right temperature (feel chest not hands) cradle and sing lullaby when tired to get them to sleep….repeat… keep repeating = happy child…."
Jake Sharpstone, who also provided this fantastic diagram!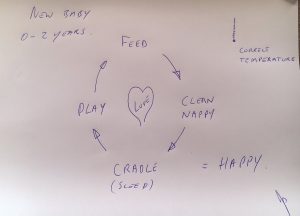 "Toddlers want you weak but alive" (I know this isn't specifically new parent advice, but it made me laugh so much I included it anyway!)
Sam Magic-Lee
"Have cabbage leaves ready in the fridge and get a good supportive pillow"
Georgina Moonesinghe
"The path of least resistance is often your saviour. Take other people's suggestions on board if you've sought them out and they feel right, note them and file them away as you wish if they're unsolicited. Accept every offer of help that will actually be helpful. And above all follow your instinct, its usually right!"
Liz Hougham
"The best mantra is 'everyone fed, no one dead'."
Leila Jane Grayling
"You always look back and laugh at the bits that made you cry."
Ben Edwards
Thank you SO much to everyone that contributed to this! I loved reading them all so much. If you are a new mum or a new dad, I hope these helped. If you're a not so new parent….I hope they resonated as much with you as they did with me!
Sally Bunkham is the founder of mumsback.com – yummy new mum hampers focussing on all the stuff they've been denied in pregnancy. £1 from every hamper goes to PANDAS Foundation.
Please note that our MUM OF THE MONTH competition is running at the moment (closes 20.00 on 17th February)! Nominate a deserving mum to win our classic hamper. Just fill out the quick form here.