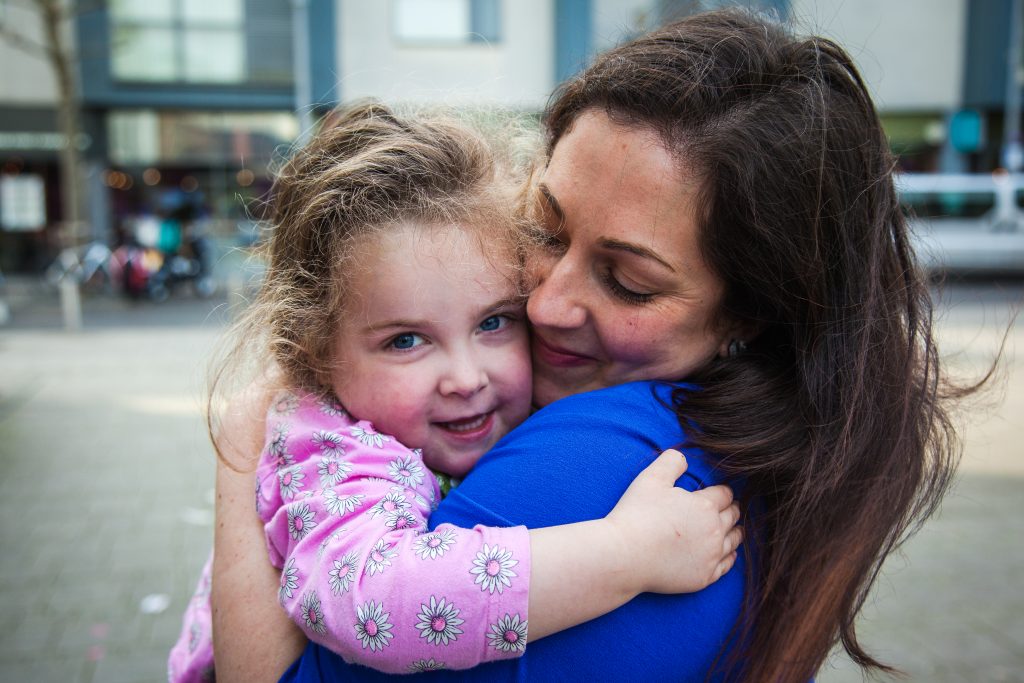 My 3 year old said something that blew me away this morning. Something that stopped me in my tracks and made me choke back the tears. I'd just got back from my early morning walk. My husband had got the kids up and dressed and they were just on the tail end of their breakfast when I came in. Daisy came to join me in the kitchen where I was making my own breakfast.
"Hey Daisy! How are you? Nice breakfast?" I said, without much thought. She looked at me, pulled up her top and rubbed her belly in a comical way. "ooooh yes Mummy!" she said, "And look at my tummy…..it's round and fat and BEAUTIFUL!"
She said it with no ounce of irony or shock factor. It was just a statement. She was feeling full, nourished and beautiful. I was suddenly hit with the beauty and simplicity of what she said. She was so untarnished by society and its shit narratives about our bodies and our own relationship with them. What she said was pure and innocent and true and I LOVED it. I wanted to bottle that mindset right there and freeze it, so it was with her always. How could I do that? A slight sense of panic set in as I realised that probably wasn't possible.
The funny thing is, I'd just been listening to a podcast by Lola Hoad (One Girl Band podcast) about the Inner Critic. I'd been thinking about it all the way through my walk. About the evil things we tell ourselves…..I think we all do it. I'm terrible for it. My inner monologue is always at it "you shouldn't have eaten that." "You have NOT done enough exercise." "You procrastinated SO much of the day today." "You didn't give the kids enough attention this morning, – that is crap parenting." "You haven't worked hard enough. Your sales are SHIT this week…what a joke" "You should just get a "proper" job and stop pretending you can run your own business"….It goes on and on. My inner critic….let's call her Sue, (in the podcast Lola explained hers is called Barbara. I like to think of Sue and Barbara bitching and cackling over coffee) is a total BITCH. I'd NEVER say the things Sue says to anyone else. Oh no, they're saved just for me.
But when did Sue start piping up in my head? I'm not sure. Maybe it was after another kid called me 'thunder thighs' aged about 8. Maybe it was when a boy laughed at me and said I had a moustache aged 15. Maybe it was when I noticed I was much bigger than everyone in 'Just 17' mag. Maybe it was when I couldn't pronounce a word in an English aged 12. Who knows? I do know I can't remember a time without Sue being there, lurking somewhere.
I don't think Daisy or her sister have a Sue or a Barbara….yet. And I want to keep their inner critic bitches at bay as long as I can. All I can do is keep supporting them and encouraging them. I tell them I love them about a million times a day and I hug them and kiss them ALL the time. So much so my youngest's favourite catch phrase is "NO WET KISSES!". I tell them they're clever and beautiful constantly. I sometimes wonder if I'm in danger of spoiling them or giving them big heads, but I realise that's not possible. Not in this life where we are set to be filled with doubts. You can't spoil a kid with love. So why don't I give myself the same love? Why don't I tell Sue to fuck right off?
We can all learn so much from our kids. When we are young we are so naturally great at so many things. They instinctively know how to eat and when they are full. They are naturally mindful. They are totally in the moment. They couldn't give a shit if we're late for a train, there's a snail to look at NOW! THERE! They know exactly how to breathe. This sounds funny but it's so true. Since having 2 babies in a year, my pelvic floor has needed…..work. To try and sort it out I've been going to exercise classes especially for postnatal women. A lot of it is quite technical and all to do with breathing. It's so interesting. It's about how we need to retrain ourselves to breath properly and exhale on effort. To stop holding and tensing all the time. Kids naturally just know how to do this. We gradually get it beaten out of us as we get older, habits we create. Women are so used to holding in their tummies we have to retrain ourselves to hold ourselves naturally and normally again in many cases. It's a really sad thought. Kids naturally breathe and move the way we should, and I'm retraining myself to be like them now. It's an amazing thing.
So, my lesson today is to be BE MORE DAISY! Not the tantrums over whether we can watch Paw Patrol before pre school part, or the fury over the sandwiches cut the wrong way, or the refusal to go to bed or tidy up bit….you can forget all that….but in the way she talks to herself. In the way she sees herself. And I need to talk to myself the way I talk to my girls. Remind myself I'm beautiful. Remind myself I'm clever. Remind myself I CAN do shit. Because that's the first step in actually doing it and believing it, even if at first I don't quite believe it. Because in the same way negative thoughts can become the truth, so can positive ones.
I'll leave you with the thing Daisy said next. I was delighted with what she said about her fat beautiful tummy, but as her mum my next thought was "it's not just your tummy that's beautiful, it's all of you!"…so I said to her "that's true! And do you know what else is beautiful, Daisy?". Quick as a flash she answered "Yep! ME!" Damn right Daisy, damn right. #BeMoreDaisy
Sally Bunkham is the founder of Mum's Back, luxury new mum hampers focussing on the yummy stuff denied in pregnancy. £1 from every hamper goes to PANDAS Foundation.