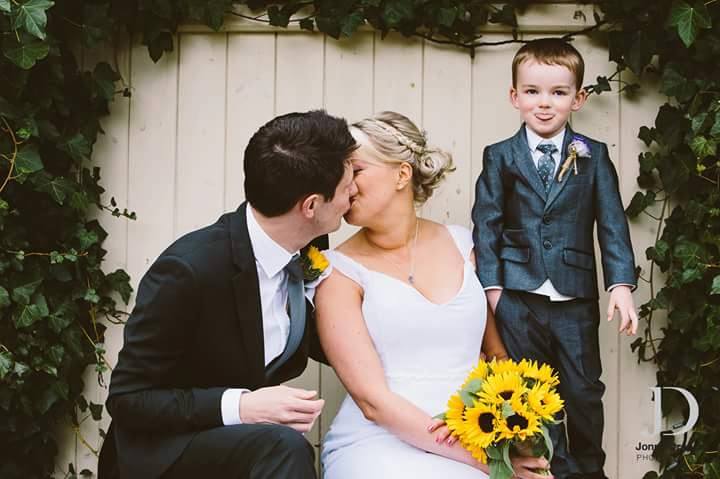 In this run up to Mother's Day, it is my quest to celebrate motherhood in all its many forms and guises. In this guest blog, I am lucky to have Louisa Hussey write about her experiences of being a step-mum, especially around Mother's Day. I really hope some of my gift hampers for mums make their way to some stepmums this year! 
I have been a stepmum for 5 years. My now husband and I met when his little boy was nearly 3. He lives with us two nights during the week, and every other weekend.
Things I do:
Half the school runs, spellings, and sort out his swimming bag.
Buy his clothes
Talk to him about Man Utd.
Remember that he loves chorizo and hates red peppers.
Buy presents for the birthday parties that he goes to,
TRY to read the 45,000 emails from school and remember when school trips are.
Try to keep my temper when he's having a rage about something.
Love him unconditionally
Miss him when he's not with us.
Things I don't:
Remember which football team is playing who this weekend.
Remember to get his new trainers from his mum.
Waver on bedtimes – I am VERY strict on these!
Always keep my temper.
Like hearing 'BUT MUMMY SAID I COULD'
Enjoy having to organise our life around his mum's – when we want to go on holiday, we have to check months in advance, or if we're trying to make plans with friends, it can be complicated getting dates that work for everyone.
We are extremely lucky, we have a good relationship with his mum and we live close enough to be part of his life in every way. I probably speak to his mum more than I speak to some of my own friends. We are very different and have hugely different parenting styles, but we try to keep a similar routine at both houses and aim for some level of consistency between us. He knows that we speak a lot and we facetime a lot as well, so when he's not with us we can still see him and catch up on his news.
We do our very best to make sure he has everything he needs, but the very nature of him having two houses can lead to complications. Mostly logistical stuff like where his football boots are, remembering to give his coat back at the end of the weekend and searching for lost reading books. These things are ridiculously trivial but it can be an absolute nightmare if he comes to ours one weekend without a coat – it drives me crackers. We do our best, and the boy has more trainers and shoes than I can possibly imagine he needs. Yet, every so often, we can't find a single pair. *Sigh*
From the very beginning, I have been his stepmum.  He is part of my husband, which means he's part of me. I absolutely 100% take the responsibility, and always will.
My first Mother's Day as a stepmum was extremely lovely. He came home from nursery and the teachers had made sure that he'd made me a card too. I am not ashamed to say that I sobbed! I've always had a lovely card from him. Sometimes his dad remembers to get me something too! His mum has always made him ring me if he's at theirs, which is really lovely.
I remember last year being a bit sad, though. I'm always the one that checks his school bag, so saw the card he'd made for his mum. I remember secretly searching for mine. I was a tiny bit upset that there wasn't one in there for me, but I tried to shrug it off – it was her day after all. Then on the Sunday he bounced into our room with a card for me – I STILL don't know how he'd got it into the house without me knowing! Maybe my husband is better at keeping secrets than I thought… It was a truly lovely card too.
However, being a stepmum isn't all sunshine and roses. We're going through a particularly challenging time with him at the moment, and his behaviour can be downright horrendous. It's hard when he refuses to listen to me and he has started using the 'I want my mum' line more and more, usually when he's not getting his own way. That can be really hard.
It's a funny thing isn't it, Mothers Day? I just feel incredibly grateful that my stepson is in my life. He has a wicked sense of humour and I'm so proud of him. He's grown from the tiniest 3 year old to the lankiest 8 year old who still enjoys a good bum joke and will sing christmas songs at the top of his voice in July. It can't be easy having two families, two houses, 4 sets of grandparents, 2 sisters and a brother in different houses, and I think his behaviour reflects this. It does, however, come into its own at birthdays and christmases – he has more presents and parties than anyone I know!
I always try to be the best stepmum that he could ask for. We often have conversations about stepmums and stepdads – last year he told me he loved his mum and dad 100% and me 90%. We agreed that was a pretty good rate, all things considered.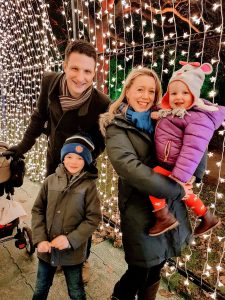 Thanks so much to Louisa for this lovely blog. Louisa is currently training as a student EFT Tapping practitioner, and is looking for clients to work with over the next few months. EFT is a non invasive technique based on acupressure points, literally using your fingertips to tap on various points on the face and body. Many people come to EFT after exhausting all other conventional options. For more information and to contact Louisa, head over to facebook.com/louisahusseyEFT
This blog was hosted by Sally Bunkham, founder of mumsback.com – gifts for new mums focussed on the yummy stuff denied in pregnancy. £1 from every package sold goes to perinatal mental health charity PANDAS Foundation.