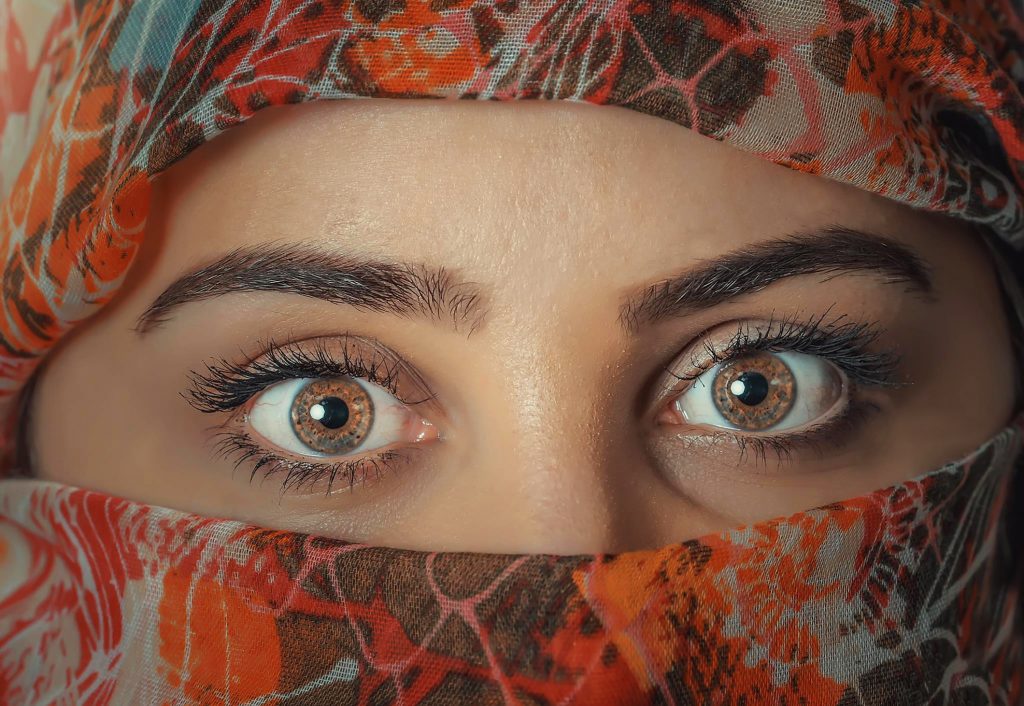 To be honest I was nervous when the lovely Sarah from the i-bar suggested mircroblading my brows. I'd been seeing her for years for threading treatments (moustache and brows!) and felt pretty happy with where we were.
Like many people, I'd plucked my eyebrows to within an inch of their lives in the 90s. I'd "Imacc'd" (I think it's now called "Veet"?!) ….and on one occasion actually shaved *shudder* my upper lip to oblivion during the same period, (damn those 90s…thank god there was no social media back then to capture these horrifying errors) and it took a bit of work for Sarah to get my face looking presentable again. But she'd managed it and her threading had done me proud over the years.
My eyebrows were in pretty good shape and my tache' was kept at bay. So the thought of another treatment….especially one that had "blade" in the title AND was described as 'long lasting' did fill me with a little worry. However, I trusted Sarah and had seen pictures of others who'd been through the treatment and was impressed with what I saw. So, pushing those memories of 90s horror to the back of my mind I agreed. Sarah dabbed on some of the colour dye behind my ear, which I had to leave on for 24 hours just to ensure I had no reactions. Off I trotted with my first appointment booked in.
My first and main worry was that I didn't want to look like I'd had 2 slugs tattooed above my eyes. I'd seen some shocking eyebrow tattoo treatments in my time and I definitely didn't want to look like that. Sarah reassured me and promised what I already knew – that she is ALL about natural beauty. Her aim was to enhance the shape of what I already had and fill in the gaps (no doubt created in the 90s!). It sounded good. Here's a pic of my brows before any work….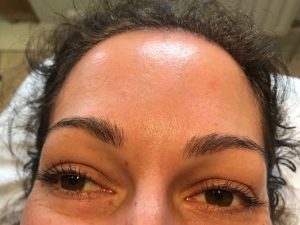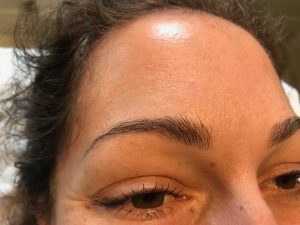 Sarah explained the way she works. She suggested 3 sessions in total, with a (circa) month gap in between. This gives previous treatments a chance to settle, creating a much more natural result in the end. Sarah is absolutely meticulous and pays SO much attention to details it's crazy. She told me that for her, it's like therapy. I understand why now! For so long she'd been threading my eyebrows…working on their shape and definition, but never been able to fill those annoying gaps in the shape she'd so carefully created…..until now! It's a bit like being able to decorate the cake she'd so lovingly baking all this time.
The first treatment was the most daunting. Sarah dabbed on some anaesthetic cream on the eyebrow area and I sat to let it work in for 30 minutes. This was actually great because I got to sit with my feet up and read a mag (a bit like a spa treatment with 2 under 4 at home). Then it was time to get cracking. Sarah looked like a surgeon in her scrubs and it made me wonder if I'd made a mistake!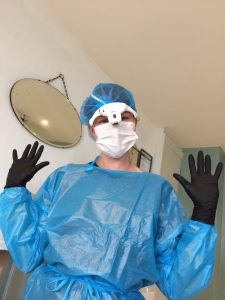 My worries were soon allayed as she got to work. First we discussed the areas she planned to fill in. My brows ended quite abruptly, so the plan was to lengthen them slowly and gradually and fill in some other areas to create a better shaped arch. Sarah explained how microbladers are trained to follow a particular brow shape. This is good, but doesn't account for people's differing face shapes. Sarah opts for a tailored design for each person, matching his or her features. I realised at this point how lucky I was to have Sarah! She also explained how many blades there are for the treatment and how it's important to use the right one. Too thick could look unnatural, and perhaps veer into the slug look I was worried about. Colour matching was also important, to stay in line with the natural look. Sarah had it all under control.
She started work and I got to experience what it felt like. Not a lot, actually, because my brows were numbed! It didn't hurt at all. I could just hear/feel a slight scratchy noise. That was it. It was actually pretty relaxing. I was pleased because I'd heard from friends that it hurt. This is because many technicians don't bother waiting for the anaesthetic, opting instead to make some incisions meaning the anaesthetic works its way in quicker, and the treatment is done quicker. Sarah, however, is all about client comfort, which is another reason why I love her!
We chatted throughout the treatment and the first session was soon complete. I was sent home with instructions not to get the eyebrow area wet for 48 hours and to keep clean. It was pretty easy. The look at first was quite heavy, but this wore off after a few days. I was actually quite sad when it did and was looking forward to my next session. I got a lot of compliments. I realised how much better my whole face looked with normal sized brows.
The next 2 sessions were more of the same. Sarah carefully built on the previous session, working on filling the gaps and ensuring the colour was right. I could see what a good idea it was to space out the sessions. It meant for a really natural look, which Sarah constantly strives for.
My last session is now complete and I'm so in love with my new brows!! Here they are in all their glory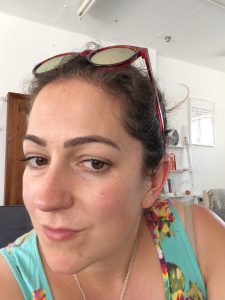 Are you interested in a session with Sarah? She's very kindly offering a discount of 10% for all of this blog for microblading treatment. Just give her a call or email and let her know you read all about it on the Mum's Back site.
Sarah's lovely studio is based just off Western Rd, in Castle Mews, Brighton. Here I am with Sarah in her studio. Note my brows are much heavier there than the finished article as they still had lots of dye on them, but I wanted to get a nice one of Sarah when she's not in her surgical uniform so you can see how lovely she is!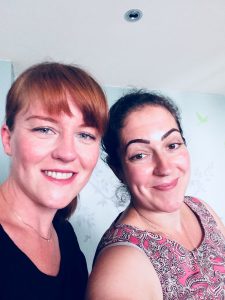 This blog was written by Sally Bunkham, founder of Mum's Back – Hampers for new mums and mums at all stages, focussing on the yummy stuff denied in pregnancy. £1 from every hamper sold goes to PANDAS Foundation.