Here at mumsback.com, we are totally, unashamedly and completely all about new mum gifts. When I started the company I didn't think there were enough gift offerings available aimed solely at a new mother, and I did a lot of research to back this theory up. I was right, the market certainly isn't saturated. However, what is available right now is pretty darn cool. I've put together my top 3 gifts for a new mum, each focussed on the different stages of that early journey into parenthood. Check them out!
Early pregnancy – dontbuyherflowers.com
Those first early weeks are so exhausting and pretty stressful. Many report it being the period where they feel the worst. Yet it's the time when many opt not to let the cat out of the bag to their wider friends & family, making their situation hard to explain. What us ladies really need during this time is some good old-fashioned TLC. In fact, this gift works brilliantly for anyone going through a bit of a rough time, whether it be through pregnancy, perhaps trying to conceive, or any another stressful factor that life has chucked at them.
The Care Package at £27.50, plus £3.98 (min) delivery in the UK. In the beautifully presented box you get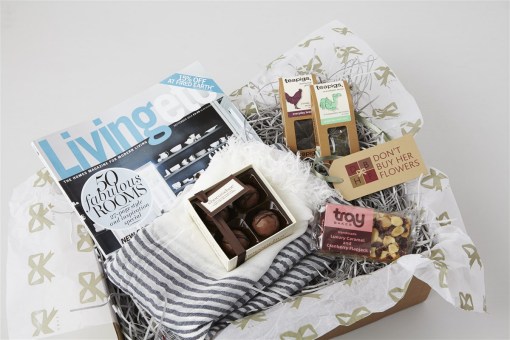 Luxury Caramel & Cranberry Flapjack
Green Tea with Mint and Everyday Brew Tea
Triple Choc Brownie Truffles
Large Printed Scarf
Glossy magazine (choose from either Red, Glamour or Good Housekeeping)
There is also the option to add extras, such as Cook vouchers, for an additional charge.
I've purchased this gift 3 times recently for different friends, and they've all absolutely loved them. It delivers just the right mix of yummy treats for the tummy, scarf for warmth and comfort, and a bit of reading for relaxation – the perfect mixture to give the soul a boost!
Dontbuyherflowers.com was started by mum of two Steph Douglas back in 2014. Steph recognised the gap in the market for treats for mum, and has now also branched out into beautiful hampers for all sorts of occasions and situations, like "The Recovery Package" and "The Man package".
 Mid to Late Pregnancy – applesandpips.co.uk
Now is the time when mum is starting to think a lot about the new arrival. It's also likely she'll be feeling the strain of the pregnancy as the baby gets bigger. At this point in the journey, a gift that combines the focus on both the mum and the baby is perfect. The ideal gift that delivers is a Mum-to-be Gift Hamper from the fabulous Apples & Pips (£55, includes delivery in the UK)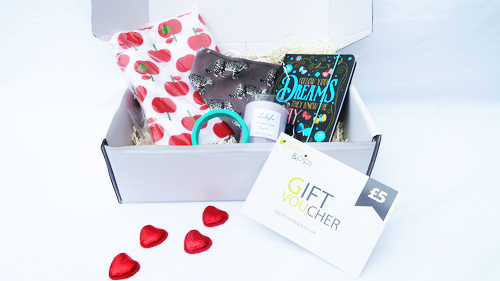 Included in this brilliant package are these thoughtfully handpicked items
A soothing lavender body heat wrap
Bamboo Washable Breast Pads
This Mama Does parenting milestone cards
'Follow your dreams, they know the way' lined notebook
A handmade vegan soy wax lavender candle
A beautiful Boo Chew teething necklace
Cool It Mama body spritz
A sample of our best selling Kokoso organic coconut oil
4 heart shaped milk chocolates
A £10 voucher to spend at Apples & Pips
Apples and Pips was started by mum of two Hannah Clarke. All products have been lovingly selected by Hannah and are of a fabulous quality. This particular combination is perfect for that mum to be. Apples and Pips also have a whole range of hampers and products available for parent, baby and toddler. They include teething jewellery, clothing, wraps, affirmation cards, journals and cosmetics, among many more! Check them out at applesandpips.co.uk. 10% of all Apples and Pips' profits go to MAMA Academy, to support their fabulous work into the prevention of stillborn birth of babies.
After the birth – mumsback.com
Hurrah, the baby is here! Mum is now likely to be feeling rather tired and emotional following a beautiful, but crazy journey of pregnancy and childbirth. In my opinion, what she needs now is a treat just for her. Now the baby is born, she can enjoy a little more freedom to once again enjoy those treats she was abstaining from during pregnancy. The mumsback.com launch hamper (usually £55 including free delivery anywhere in the UK) provides just the right level of treat for a new mum to enjoy.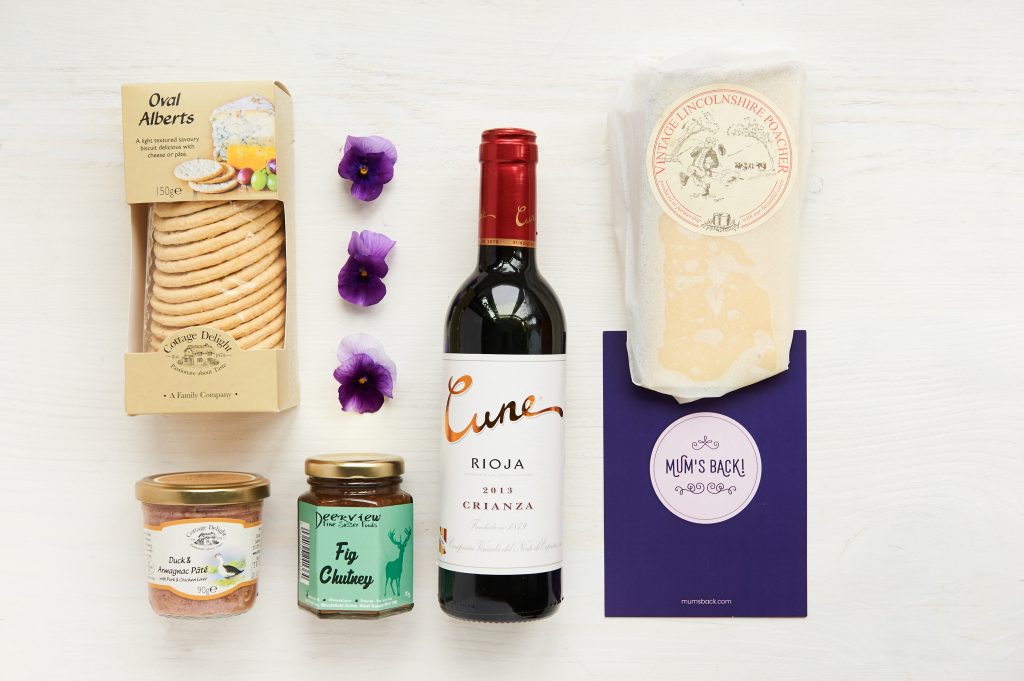 It's usual for mum to get lots of gifts focussed on the baby, which is lovely, but a Mum's Back hamper really is a nod of appreciation just to mum and acknowledges the hard work involved in growing a little human being! It includes
A delicious half bottle of Rioja red wine
A creamy block of Vintage Lincolnshire Poacher Cheese
Cottage Delight Duck and Armagnac Paté
Cottage Delight Oval Albert biscuits
Deerview Fig Chutney
A handwritten gift card (optional)
I knew how much I missed the things I wasn't allowed when pregnant, and felt there was a real gap in the market for a hamper like this, hence the formation of mumsback.com. £1 from every hamper sold goes to PANDAS Foundation to support their amazing work helping families experiencing perinatal mental health issues. I myself suffered postnatal depression following the birth of my second daughter, and now I'm through that tough time I felt it was really important to help support others going through something similar. We still have our launch offer running, so you can grab a hamper at 20% off (£44) including delivery anywhere in the UK. We can deliver immediately or you can pre-order now for delivery later (once the baby is born!). If you would like to let the recipient know you've thought of them, we can send a postcard letting them know the hamper will be on its way once the childbirth bit is done.